High-Quality Wedding and Commitment Bands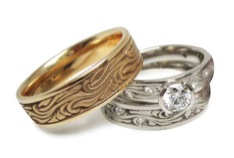 Variety
At Studio Jewelers, you will find an unparalleled selection of handcrafted engagement rings and wedding bands by award-winning designers and independent studios from all over the world. We are also proud to carry a large variety of top quality bridal jewelry classics from a number of design houses; including Jabel, the gold standard in American bridal jewelry since 1916. We also represent the popular bridal lines of Charles Green, Dora, F. Goldman, Diana, Lashbrook and more.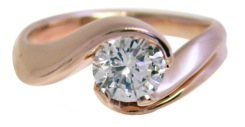 Craftsmanship
Our artists work in a large variety of metals. Many of our designers work with 14K or 18K yellow or white gold, or platinum. We are happy to have a selection of designers who work in popular "alternative" metals. These include stainless steel, Damascus steel, palladium, titanium, and tungsten. A number of artists specialize in a certain metal, such as Fred Fenster's pewter vessels and Julie Rauschenberger's 22K gold granulation. The vast majority of gold currently used in jewelry is from recycled sources, and we purchase most of our supplies for creating our jewelry from industry leaders in recycling.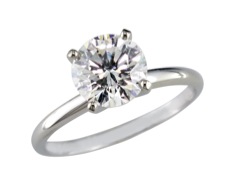 Conflict Free
We specialize in high-quality, conflict-free diamonds. All of our diamond vendors are longtime supporters of the Kimberly Process. Our collection includes a large number of natural colored diamonds from the Argyle mine in Australia. We are also happily able to source Canadian diamonds for those with conflict concerns. We are members of the American Gem Trade Association, the American Craft Council, the Jewelers of America, the Australia Opal Association, and the Wisconsin Jewelers Association.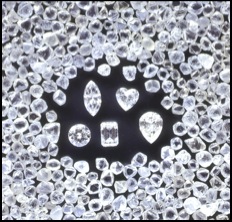 Well Informed
Our friendly, well educated staff is on hand to assist you in choosing the perfect ring that not only fits you, but fits your lifestyle. We understand that this can take time. We're happy to provide a relaxing, low-stress environment in which to explore your options. We enjoy watching people's dreams become reality, and are proud of the part we play in that process.

We always have a gorgeous stock of ideally cut diamonds of all shapes and sizes on hand, including square-cut brilliants. The revolutionary design of the this cut combines the classical elegance of a square or rectangular cut with the brilliance of a traditional round cut. We also have naturally colored diamonds from Australia, raw uncut diamonds, fancy colored diamonds, and cuts of all variety. If we don't have what you have in mind in stock, we can find a number of options for you to select from in a short period of time. We attend a number of trade shows and gem and mineral shows annually, and are happy to take your request for something unusual or hard to find.

Custom design is always available with on-site designers and goldsmiths Whitney Robinson, Chris Keenan, and Hanna Cook-Wallace. Feel free to gather ideas and sketches, bring in your stones for us to work with, and let us help you find your muse. Contact us today to schedule an appointment!


Here are a few examples of some of our favorite collections.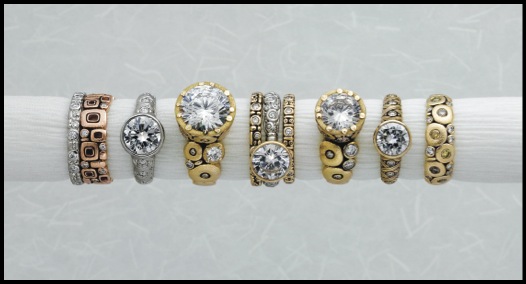 Alex Sepkus creates worlds in miniature, each piece perfect to the last detail. Colorful gems and sparkling diamonds twinkle in gold and platinum settings that seem to glow from within. The designs are timeless, sometimes playful, always inspired. Photos cannot accurately depict the life in these pieces. Stop in today and experience them for yourself!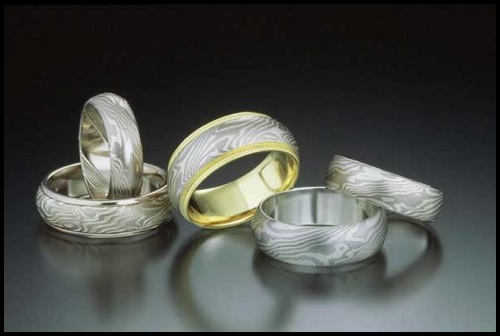 James Binnion is a master in the art of Mokume Gane, a metal technique developed in 17th century Japan. Translated, the words mean "wood eye metal", and the techinique features the marriage of metals into beautiful patterns. His rings are handcrafted according to your desired combination of metals, ring shape, desired finish, and more.




Katherine Aberle is known for uniquely patterned wedding bands and engagement rings. While the rich traditions of the Celtic, African and native American cultures inspired them originally, their new designs include a modern variation on the famous celtic Claddagh ring, a bold Trinity Knot and a new collection inspired by the elegance of Asian designs and motifs. Gathered from items as diverse as fabric borders, book ornamentation and ancient armor, the timeless themes resonate with everyone who sees them.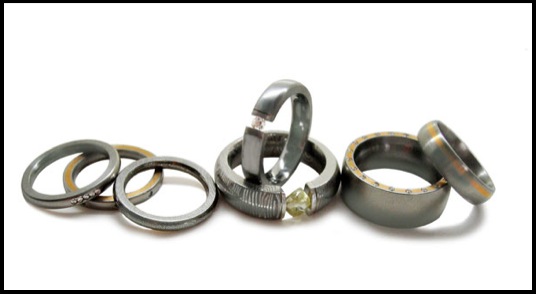 Stephen Vincent has developed his Muse collection, featuring Damascus and stainless steel accented by bands of Platinum, 24K gold, 18K red gold or fine silver. Accented with precision set diamonds or gemstones, these rings are timeless, sophisticated and sleek. Come in and see our collection today!




Lashbrook Designs features unique, modern wedding bands in alternative metals. Bands are available in Damascus Steel, Titanium, Cobalt Chrome and more. Custom designs are also available. Photos of their full line can be seen at http://www.lashbrookdesigns.com, and items not in stock can be special ordered through us.