Featured Gemstones

At Studio Jewelers, your dream piece can start with a one-of-a-kind gemstone. Our inventory includes hundreds unusual and fine colored gems, pearls and diamonds, as well as fine examples of the lapidary arts. Here is a small sampling of some of the newest treasures. Check back as we add more to this page, or stop in to search for a particular stone of inspiration.

In addition to our in-house stock of gems, you may also search through the online catalog of one of our gem suppliers at www.gem2000.com. If you find a stone you are interested in, please note the information and give us a call!

(Photos do not show stones at actual size! It is difficult to photograph gemstones, and there may be slight variations in color when you see these stones in person.)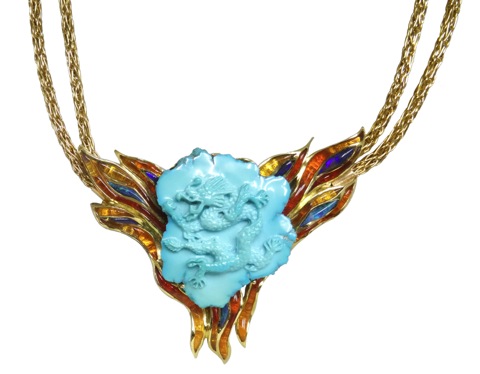 Here is a beautiful Dragon necklace "Seeking Wisdom" by Elizabeth Beunaiche. It is an 18K yellow gold necklace featuring a dragon carved out of Sleeping Beauty turquoise, and surrounded by Mexican and Lighting Ridge opal that is backed with gold leaf.

Treasures from the Tucson International Gem Show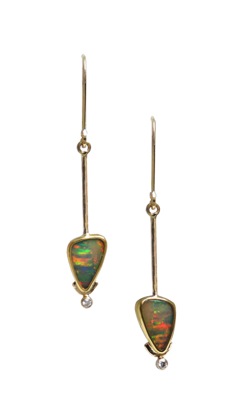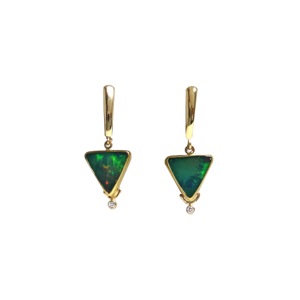 These lovely earrings feature Ethiopian opal with diamond accents set in mountings of 22k and 14k yellow gold and sterling silver.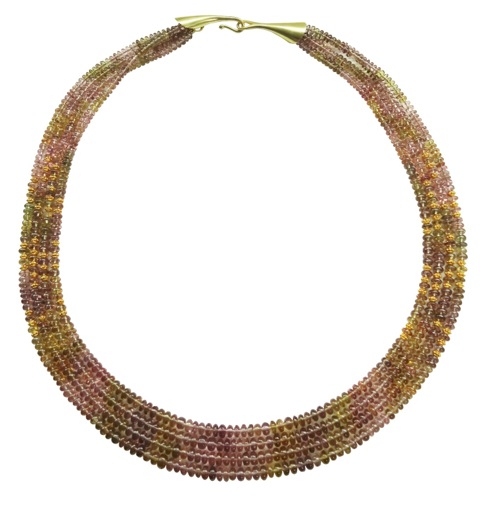 Four strands of color-change garnet rondele beads weighing a total of 362 carats, strung on a 20k yellow gold clasp and accented with handmade granulated 22k beads.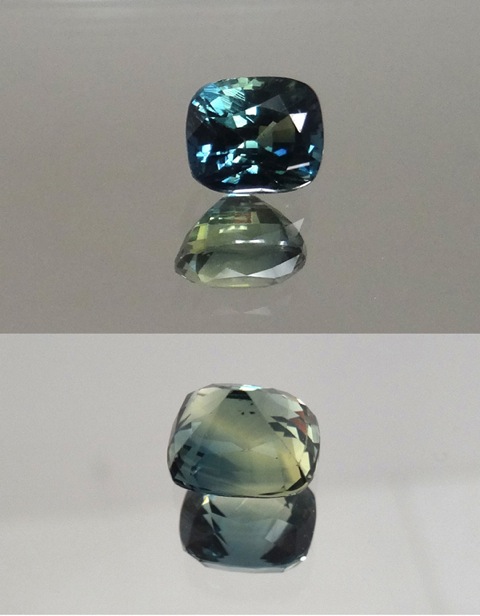 Just one of the stunning gemstones brought back from Tucson, this fabulous blue-green sapphire weighs in at just under 3 carats.



Necklace of tumbled black tourmaline beads
20 inches in length, this strand of black tourmaline beads from Patrick Murphy is punctuated with four spheres of sterling silver, each sphere studded with faceted rainbow moonstones.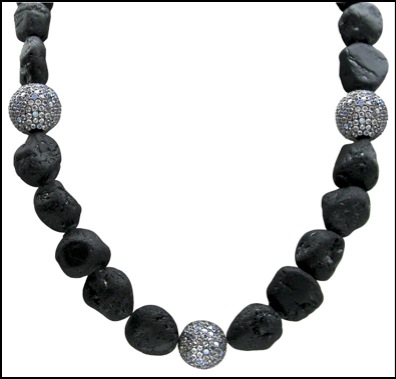 40.95 ct rainbow pyrite
This magical, sparkling drusy stone measures 35.9 x 29.0 x 5.4 mm and exhibits metallic copper and gold tones, peacock blues and purples--the result of natural oxidation of the tiny crystals that comprise the surface of the stone . (Tiny crystal growth on the surface of a host rock is called 'drusy', regardless of the mineral type.) Immersing a rainbow pyrite in acid will strip the color away and reveal the more typical metallic gold surface responsible for the moniker "fools gold" that has been applied to pyrite. Pyrite itself is named for the Greek word for fire "Pyr," as it produces sparks when it is struck with steel. It has a hardness of 6 - 6.5 on the Moh's Scale, so it's best set in pendants where it won't get knocked around.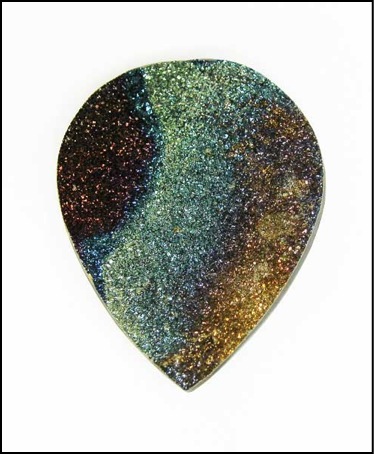 Freeshape green tourmaline bead strands; by weight
These beads were made by slicing up raw tourmaline crystals and tumble polishing them. They range in color from moss to hunter green, and some of the beads are chatoyant, owing to microscopic needle-like inclusions of rutile. Rutile is the inclusion that makes catseyes in both tourmaline and corundum (sapphire).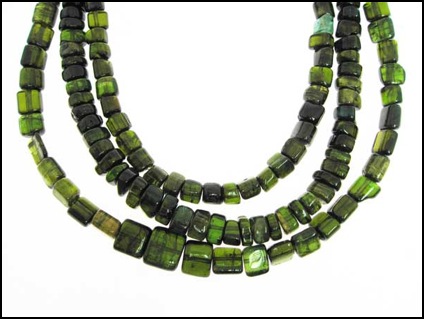 3.43 ct. golden beryl
Beryl is the mineral family that includes emerald, aquamarine, and the ethereal pink Morganite. This untreated 11mm trilliant cut gem is exceptionally brilliant and completely free of eye-visible inclusions.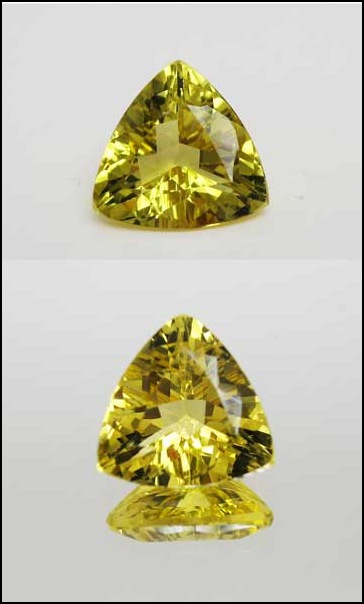 This lovely garnet is an oval Malaya Garnet. It is 10.20 carats, and is a natural colored, untreated stone.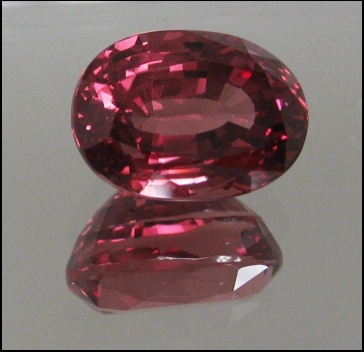 11.96 ct Bi-colored Tourmaline
This natural bi-color tourmaline is unusually large and fine. It weighs 11.96 carats and measures 13.36 X 11.52 X 8.9 mm. The color is evenly divided between strawberry pink and moss green and there are no eye visible inclusions. Tourmaline is 7 to 7.5 on the Mohs hardness scale, so it's good for setting in all types of jewelry. Recognized as a separate gemstone family for less than 250 years, the beautiful Tourmaline is blessed with the widest array of colors of any species. Because it occurs in so many shades, it was long mistaken for Emerald and Ruby. Tourmaline is one of the birthstones for October.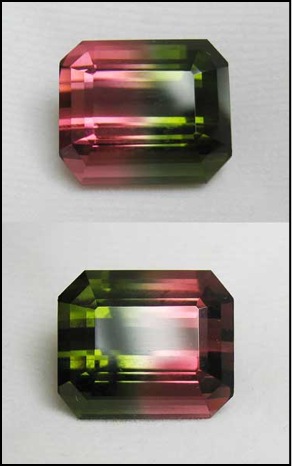 5.13 ct Imperial Topaz
This untreated natural imperial topaz weighs 5.13 carats and measures 13.65 X 9.1 X 5.93 mm. This stone is an 8 on the Mohs hardness scale, so it's good for setting in all types of jewelry. Topaz derived its name from the Red Sea island of Topazos. It is the traditional birthstone for November.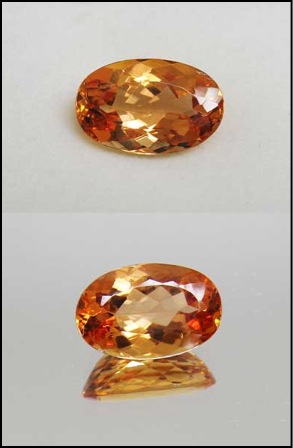 0.75 ct Demantoid Garnet
This lovely bright green demantoid garnet weighs 0.75 carats and has a slight oval shape, measuring 5.25 x 6 x 3.3 mm.
Garnet use in jewelry can be traced to the Nile Delta in 3100 B.C., where Egyptian artisans crafted the gemstone into beads or inlay them into hand-wrought jewelry.





2.38 ct Zambian Aquamarine
This gorgeous oval blue aquamarine weighs 2.38 carats and measures 7.9 x 10.1 x 5.25 mm. Aquamarine is in the Beryl family, and is 7.5-8.0 on the Moh's scale of hardness. Aquamarines are found in a range of blue shades, from the palest pastel to greenish-blue to a deep blue. While the choice of color is largely a matter of taste, the deeper blue gemstones are more rare.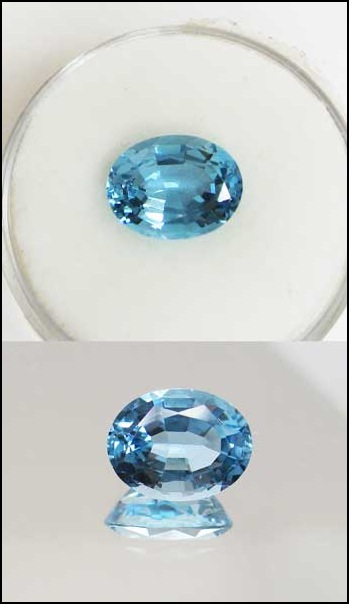 3.59 ct blue sapphire 8.8 mm native cut round stone
The picture doesn't accurately represent the color of this beautiful gem, which is almost tanzanite blue--definitely a violet blue, not a sky blue. Hanna considered recutting this stone but decided to retain its slightly funky personality (it's what we call "roval"-not perfectly round but not oval, either.) Besides, it sparkles like crazy just the way it is! The photograph on the mirror shows both the exceptional clarity of the stone and the wisps of concentrated blue color that reflect evenly around the stone when it is viewed from the top.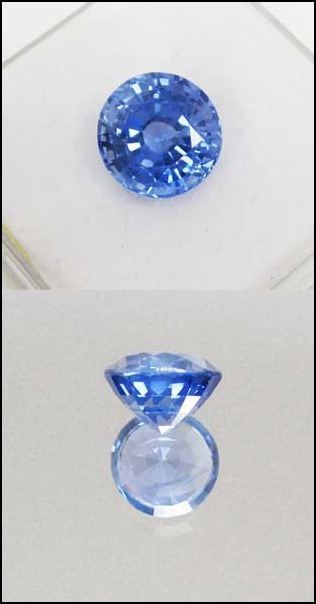 A gorgeous green, this oval-cut sapphire is 6.44 carats, and measures approximately 11.9 x 9.6 mm. Mined in Madagascar.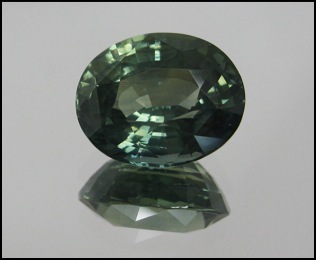 1.13 ct. cushion cut Padparadscha sapphire (AGTA lab certified)
This natural Sri Lankan sapphire fulfills the gemological criteria to be called Padparadscha: it is intensely pink and orange, in close to an equal ratio of the two colors. Hanna photographed it on a mirror to reveal the source of color, an orange color pocket that radiates throughout the otherwise pink gem. True Padparadscha sapphires are extremely rare.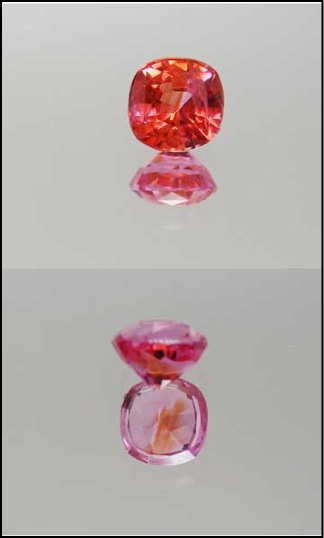 5.05 ct. octagonal emerald cut pink spinel
This fine gem spinel has been in Hanna's personal collection for nearly 20 years. The source is likely the gem gravels of Myanmar. This was one of a number of collector gems Hanna bought from the late Barney Goff, a gemologist and stonecutter who helped launch the studio jewelry movement in the 1970s and 1980s. Goff pioneered unusual cuts for colored gems (the arch and bullet cuts, among others) and introduced them to independent jewelry designers across America. He was a lifelong champion of the fine and the rare in the world of gems and minerals.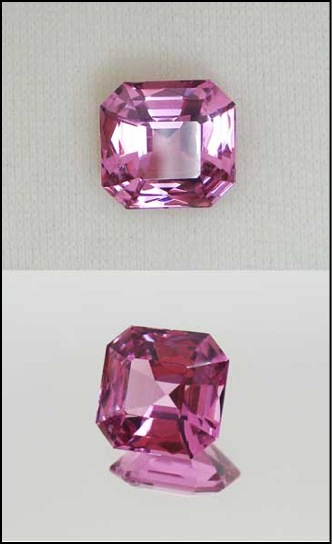 This cushion-cut beauty is a natural Demantoid garnet, which weighs 2.53 carats.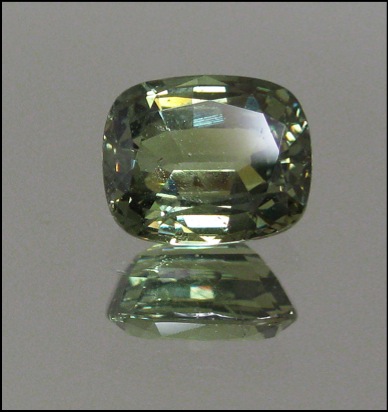 31.47 ct triangular rutilated quartz cabochon
We love our "funky" gems at Studio Jewelers! This unique stone was mined in Brazil. It features sprays of golden rutile needle inclusions emanating from a ribbon of silvery-black rutile that seems to light up as the stone is rotated.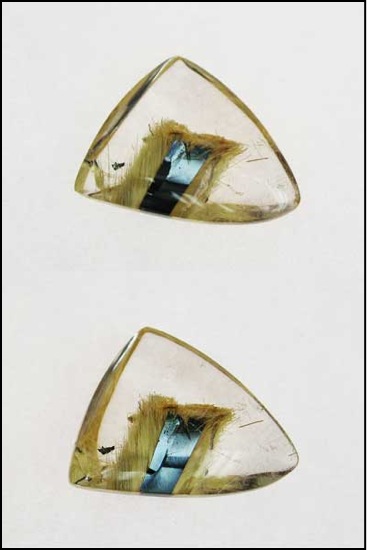 4.90 ct. phenomenal sapphire cabochon
Very unusual (for sapphire) earthy, green moss color with straw colored undertones with a shimmering blue chatoyancy. At first look it resembles catseye chrysoberyl, but Hanna verified its corundum identity with a refractive index test in our gem lab. This would be an ideal ring stone, because it is very durable.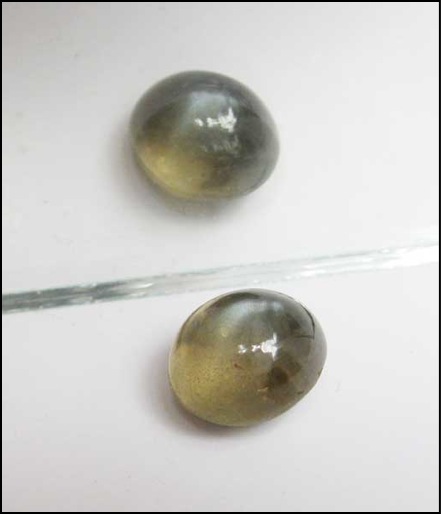 (Stones are not shown actual size.)