Engagemen
t & Wedding Rings
Please click to visit this page, which gives an introduction to our bridal and commitment bands, and some of our ethics and standards.
Love expresses itself in many forms. We offer arguably the widest selection of gorgeous and unique rings with which to attest your deepest emotions. Be it for an engagement, wedding, promise, remembrance, or any other expression of human emotion, we will help you find the creation that best speaks to you. We also firmly believe that love is to be expressed equally by everyone, and strive to hold a comfortable and safe environment to view all choices available.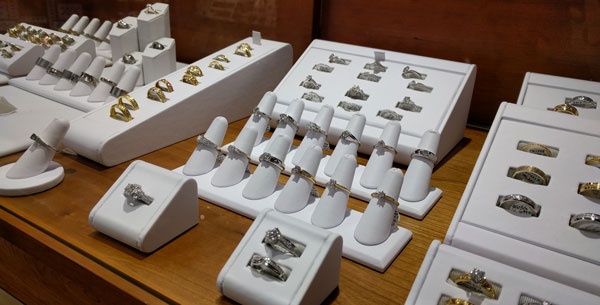 A small selection of our wedding and commitment rings
Custom Work
Please click to visit this page, which introduces you to the custom design process.
Should you find our selection inspires you to create your own unique piece, we have on-staff designers and goldsmiths to work with. We also are pleased that many of the artists whose work we carry will work with us on making you an heirloom piece in their own signature style.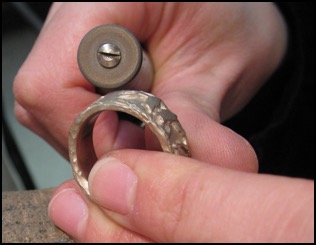 Working on a custom-designed ring
Featured Artists
Please click to visit this page, which introduces you to each artist, with a link to a gallery of photos of a number of their art.
A unique jewelry art gallery, Studio Jewelers is proud to represent over 30 artists and small craft shops. Many of these have international renown as designers, and many have ties to the Madison, WI area. We often host a number of these artists for "trunk shows," yearly events where the artist visits our store, often bringing a number of new and unique pieces not in our current selection.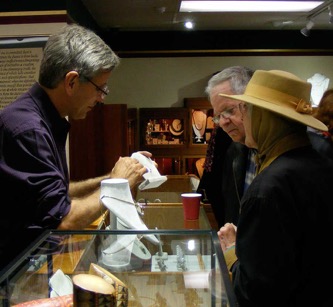 Wisconsin artist Tom Dailing works with clients at an event
Alex Sepkus Salon
This page features many of the styles and unique pieces from Alex Sepkus that we carry here at Studio Jewelers.

We are one of the largest representatives of the work of artist Alex Sepkus. His unique style, featuring organic designs and micro-texturing that gives it an ethereal glow. We are proud to feature many one-of-a-kind pieces crafted for us from jewels lovingly held for decades in Hanna's gem collection, which has inspired a salon-type gallery for you to enjoy.


Please also visit our latest endeavor, our website,
www.SepkusAtStudioJewelers.com
, where we have made our entire collection of Alex Sepkus pieces available to purchase!