October's Birthstones are
Opal
and
Tourmaline
Check out our
Opal
and
Tourmaline
boards on Pinterest for more photos and info!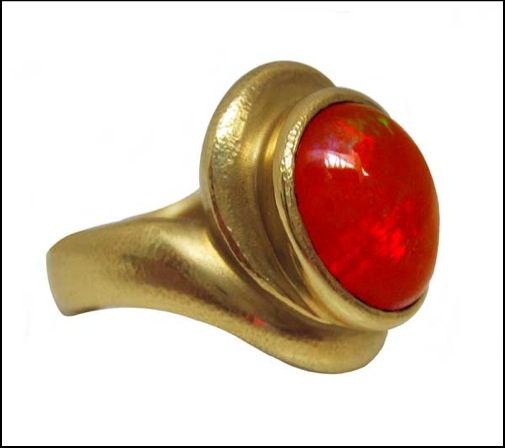 Boulder opal and Mexican fire opal jewels by Hanna Cook-Wallace.
Opal

Opal, along with tourmaline, is the birthstone for October and the suggested gift for the fourteenth anniversary. Revered as a symbol of hope, fidelity, and purity, opal was dubbed the Queen of Gems by the ancient Romans because it encompassed the colors of all other gems. Opal is prized for its unique play of color, the ability to diffract light into flashes of rainbow color.

Opal occurs in different colors, ranging from semi-transparent to opaque. The most common is white opal. Crystal or water opal has a colorless body. The most valued variety, black opal, has a dark blue, gray, or black body color. Boulder opal combines precious opal with the ironstone in which it forms. Bright yellow, orange, or red fire opals are quite different from the other varieties of opal. Their vibrant tones, which are translucent to transparent, are beautiful with or without play of color. Today's supplies of opal come primarily from Australia, Mexico and the United States. Most opals are not faceted but cut into rounded or free-form cabochons that enhance their play of color.

Opal, with or without enhancement, should be treated with some care. Opal is softer than many other gemstones and should be stored carefully to avoid being scratched by other jewelry. It should also be protected from blows, as exposed corners can chip. Opal should not be exposed to heat or acid. Your AGTA jeweler will tell you how to best care for your opal.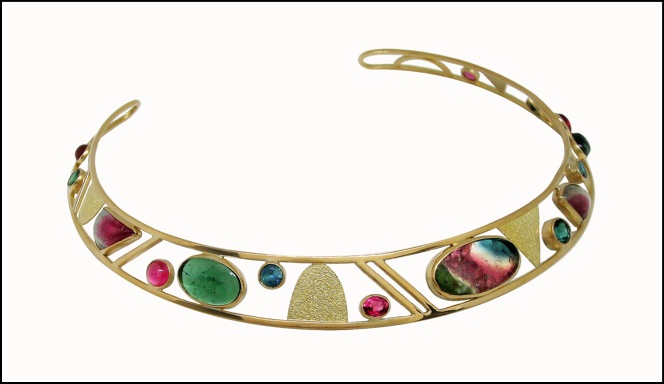 Collar by Hannelore Gabriel, showing the many colors of tourmaline.
Tourmaline

For centuries tourmalines have adorned the jewels of royalty. The Empress Dowager Tz'u Hsi, the last empress of China, valued the rich pink colors above all other gemstones. The people of ancient Ceylon called tourmaline "turmali," the Sinhalese word for "more colors." Perhaps this is why ancient mystics believed tourmaline could encourage artistic intuition: it has the palette to express every mood.

Vivid reds, hot pinks, verdant greens and blues abound in this marvelous gem variety. Earth tones as varied as a prairie sunset are readily available. Not only does tourmaline occur in a spectacular range of colors, but it also combines those colors in a single gemstone called "bi-color" or "parti-color" tourmaline. One color combination with a pink center and a green outer rim is called "watermelon" tourmaline, and is cut in thin slices similar to its namesake.

Dark blue, blue-green, and green tourmalines are occasionally heated to lighten their color. Red tourmalines, also known as rubellites, and pink varieties are sometimes heated or irradiated to improve their colors. Heat and irradiation color enhancement of tourmalines is permanent.

Occasionally, some tourmalines may have surface-breaking fissures that are filled with resins, with or without hardeners. Care must be observed with these gemstones. Avoid exposing them to harsh abrasives and strong chemical solvents. Your AGTA jeweler will tell you how to best care for your tourmaline.


----------
In addition to the above information from the AGTA and other sources, you can find facts about these of gems and more at the
"
Gems and Gem Materials
"
online course, through the University of California-Berkeley's Department of Earth and Planetary Science. The website is available for the general public, and contains a wealth of information for the budding gemologist and anyone interested in learning more about gemstones. Hanna Cook-Wallace has contributed to this site, which was developed by Jill Banfield while teaching at the University of Wisconsin.