June's Birthstones are
Pearl
,
Moonstone
and
Alexandrite
Check out our
Pearl
,
Moonstone
, and
Alexandrite
boards on Pinterest for more photos and info!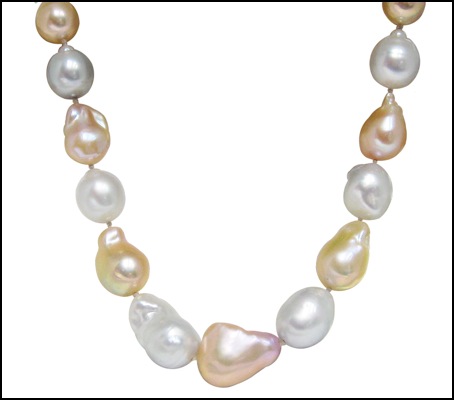 A natural colored south sea baroque pearl strand.
Pearl


According to ancient Chinese legend, the moon holds the power to create pearls, instilling them with its celestial glow and mystery. Pearls have been treasured for their lustrous, creamy texture and subtle iridescent reflections since the dawn of humankind, and are known to have been used in jewelry for over 6000 years.

Pearls are unique in the world of colored gemstones since they are the only gemstone formed within a living creature. Because natural pearls are so rare and difficult to recover from the ocean's depths, man invented the technique of culturing salt and freshwater pearls from mollusks carefully seeded with irritants similar to those produced by nature. The painstaking effort of culturing is one of the most dramatic examples of man's quest to coax beauty from nature.

Today, cultured pearls are grown and harvested in many parts of the world including the fresh waters of the Tennessee River. The majority of cultured pearls come from Japan, China and the South Pacific.
Cultured pearls come in many beautiful colors including: gold, yellow, champagne, pink, peach, lavender, gray and black. Cultured pearls come in many shapes and sizes, and can be acquired in both graduated and uniform strands. They can be purchased singly or in pairs for rings, pendants and earrings. June birthdays and third and thirtieth anniversaries are celebrated with the gift of pearls.

Due to demand for perfectly matched white pearl strands, cultured fresh and saltwater pearls are often bleached to achieve a uniform color. They may also be polished in tumblers to clean and improve their luster.
Dyes, heat treatment, and irradiation are sometimes applied to produce a wide range of hues such as yellow, green, blue, purple, gray, and black in freshwater and Akoya cultured pearls. Some South Sea cultured pearls are bleached to lighten their hue, but most South Sea and Tahitian cultured pearls are not subjected to enhancements to create or improve their color.
Pearls require special care because they contain calcareous crystals that are sensitive to chemicals and acids. To care for your cultured pearls, avoid using perfume, hairspray, abrasives, solvents, and nail polish removers while wearing them. Like your skin, cultured pearls contain water and may dehydrate and crack if exposed continuously to arid conditions.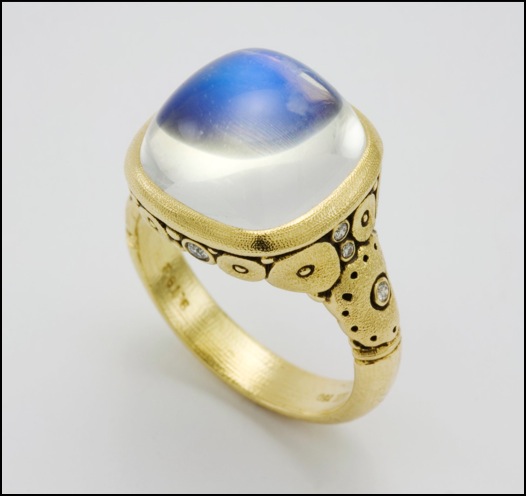 A beautiful rainbow moonstone set in an Alex Sepkus ring.
Moonstone

The ancient Romans theorized that moonstone, with its unearthly shimmer, was formed from frozen moonlight. This appealing gem variety does shine with a cool lunar light but it is the mineral feldspar, quite terrestrial in origin. The shimmer, which is called schiller or adularescence, is caused by the intergrowth of two different types of feldspar, with different refractive indexes.

Moonstones come in a variety of colors. The body color can range from colorless to gray, brown, yellow, green, or pink. The clarity ranges from transparent to translucent. The best moonstone has a blue sheen, perfect clarity, and a colorless body color. Another related feldspar variety is known as rainbow moonstone. In this variety, the sheen is a variety of rainbow hues, from pink to yellow, to peach, purple, and blue.

Fine moonstone is quite rare and becoming rarer. It is mined in Sri Lanka and Southern India. The rainbow variety can be found in India and Madagascar. Moonstones are usually cut in a smooth-domed oval cabochon shape to maximize the effect. Sometimes they are carved to show a man-in-the-moon face.

Moonstone should not be stored in contact with your other gemstones to prevent scratching. Clean with mild dish soap: use a toothbrush to scrub behind the stone where dust can collect. Your AGTA jeweler will tell you how to best care for your moonstone.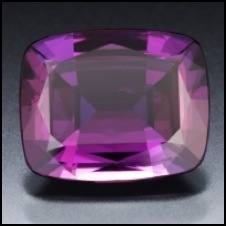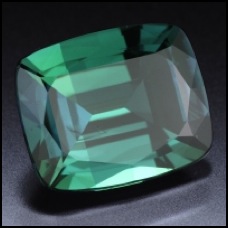 These photos from the AGTA show the color change that occurs with Alexandrite in different light spectrums.
Alexandrite

If you love magic, especially the magic of science, you'll love alexandrite, a color-change gem. Outside in daylight, it is a cool bluish mossy green. Inside in lamplight, it is a red gem, with a warm raspberry tone. You can watch it flick back and forth by switching from fluorescent to incandescent light. Alexandrite is a gem variety of the mineral chrysoberyl discovered in 1830 in Czarist Russia. Since the old Russian imperial colors are red and green, it was named after Czar Alexander II on the occasion of his coming of age.

Today, fine alexandrite is most often found in period jewelry since newly-mined gems are extremely rare. You'll see fine gems offered at auction with impressive estimates. The original source in Russia's Ural Mountains has long since closed after producing for only a few decades and only a few gemstones can be found on the market today. Material with a certificate of Russian origin is still particularly valued by the trade. Some alexandrite is found in Sri Lanka, Zimbabwe and Brazil, but very little shows a dramatic color change. For many years, alexandrite was almost impossible to find because there was so little available.

In 1987, a new find of alexandrite was made in Brazil at a locality called Hematita. The Hematita alexandrite shows a striking and attractive color change from raspberry red to bluish green. Although alexandrite remains extremely rare and expensive, the production of a limited amount of new material means a new generation of jewelers and collectors have been exposed to this beautiful gemstone, creating an upsurge in popularity and demand.

----------
In addition to the above information from the AGTA and other sources, you can find facts about these of gems and more at the
"
Gems and Gem Materials
"
online course, through the University of California-Berkeley's Department of Earth and Planetary Science. The website is available for the general public, and contains a wealth of information for the budding gemologist and anyone interested in learning more about gemstones. Hanna Cook-Wallace has contributed to this site, which was developed by Jill Banfield while teaching at the University of Wisconsin.